The Sheraton Kansas City Hotel at Crown Center is a 504.0Â ft (153.62Â m), 45-story hotel in the Crown Center complex in Kansas City, Missouri.
The hotel opened on July 1, 1980 as the Hyatt Regency Kansas City and was Missouri's tallest building from 1980 to 1986. It is now the state's sixth tallest building and is Kansas City's third tallest building.
In 1987, the hotel was renamed Hyatt Regency Crown Center. It was again renamed the Sheraton Kansas City Hotel at Crown Center on December 1, 2011.
The Crown Center complex was built by Hallmark, adjacent to their headquarters, and southeast of the Downtown freeway loop where most of Kansas City's tallest buildings are located.
It has 42,860 sq ft (3,982 m2) of function space, a 17,487 sq ft (1,624.6 m2) ballroom and a dedicated exhibit hall with 15,360 sq ft (1,427 m2). It has 733 guestrooms, including 42 suites.
The hotel was formerly topped by a revolving rooftop restaurant, Skies, which closed along with the hotel's Peppercorn Duck Club when the hotel became a part of Starwood Hotels and Resorts Worldwide. The former Skies restaurant reopened as the Sheraton Club Lounge-- a private club offering complimentary breakfast, afternoon hors d'oeuvres and a variety of beverage options.
Skybridge collapse
On July 17, 1981, 114 people were killed in the hotel when the fourth floor walkway in the atrium collapsed on the second floor walkway during a tea dance attended by more than 1,300 revelers in the Hyatt Regency walkway collapse. An investigation revealed that tie rods supporting the walkway did not meet Kansas City building codes.
References
External links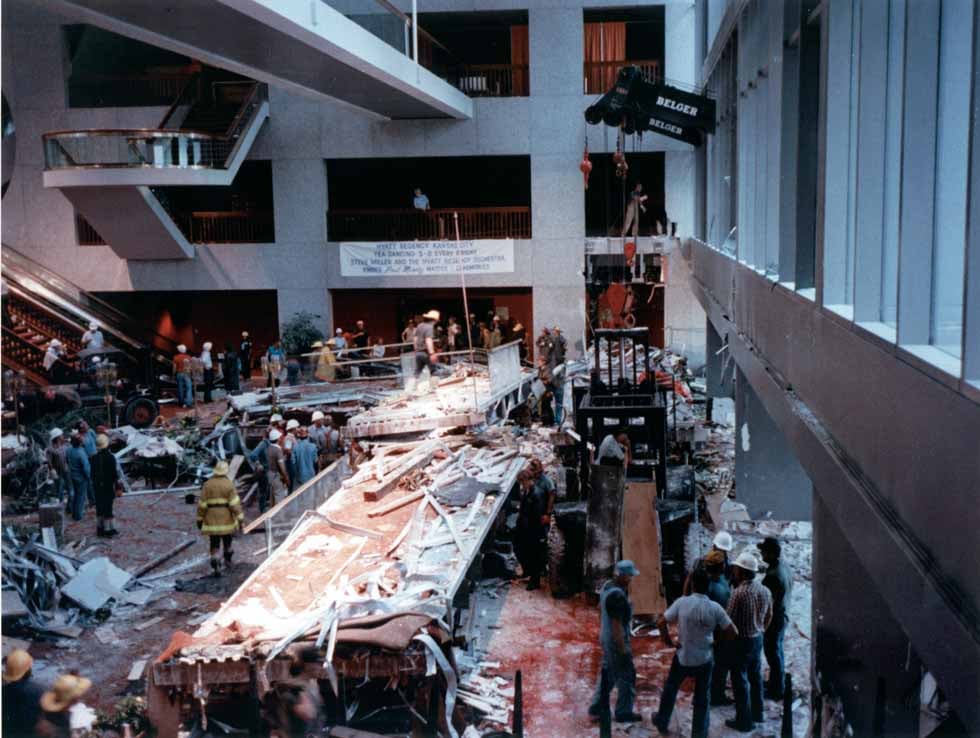 Hotel official website
Sheraton official webpage